The Future of Forms is Digital
Why Use Workflows as a Commercial Business?
Filling out paper forms is arguably one of the most tedious parts of modern life, but the landscape of information collection is drastically changing. While web forms have been around for a long time, they weren't always mobile-friendly. Additionally, online form field options were often limited, making them hard to customize for more specialized forms.
The need to support remote work further drives the shift to digital form taking. Many business professionals have adapted to use tablets and mobile devices as their primary work station or even employed them as the point of sale system at brick and mortar locations. Mobile devices are all about agility and many business practices have had to learn to embrace that. Whether its optimizing websites for mobile to adopting text message reminders and social media, the future lies in business' ability to fully leverage current technology.
Nearly every industry is dependent on some type of form taking. Digital forms provide a secure, simple way to gather information for processes like:
Real Estate – Purchasing or selling a home, disclosures, contracts, and purchase offers can be submitted more quickly with digital forms.
Banking – new accounts, loan applications, and more can now be handled online
Construction – take job site photos, track changes, and handle invoices from a convenient mobile device. 
Retail – take surveys right on the sales floor. Gather customer information quickly while the lead is hot. 
How the Shift Affects Consumers
Filling out forms becomes effortless with cloud-hosted forms. Ease of use leads to greater satisfaction for customers and electronic forms deliver on this front. Digital forms typically have fields that are clearly marked so users don't have to hunt through walls of text to fill them out. Many platforms like Adobe Acrobat or Docusign can even highlight and guide users through the form so nothing gets missed. Additionally, cloud-enabled platforms like AWS are highly secure ensuring customers can fill out forms and even sign them from anywhere.
How the Shift Affects Businesses
Digital form taking certainly benefits the end-user. However, it also comes with a host of advantages for the businesses processing the forms. Form heavy industries like real estate or banking can expedite processes and improve accuracy with digital forms. Digital forms offer instant visibility into the data contained in the forms and are seamlessly integrated into workflows. These workflows can be used to upload contact data, visualize trends, build a marketing campaign, and more. Easily aggregate data from forms and even automate the next steps for your customers to ensure timely service. One of the most powerful benefits of digital forms is that they are more accurate because there is no need for an additional person to manually transfer the data into a database.
How Do I Transition to Digital Forms
Making the leap to gathering information in a purely digital format often begins with digitizing the forms you already have. With today's machine learning supported OCR, forms can be digitized without losing context. This means that each form field can be captured and easily plugged into a matching digital form. Day forward, new digital forms can be designed to mirror previously used physical forms. Alternatively, they can be completely re-imagined to capture information like geographical location, barcodes, timestamps, and other fields that benefit from mobile device functionality. Businesses have the flexibility to transition to an entirely digital intake model or use a hybrid approach that might include some paper forms, digital form documents (such as pdfs with form fields), and cloud-hosted mobile forms.
Does DOMA offer Digital Forms?
DOMA Technologies is prepared to help you at every stage of your journey towards fully mobile digital forms. This includes digitization of paper forms, automated workflow management, and the development of mobile-friendly forms via our DX Mobile Forms App. Now your team can access and complete forms from anywhere, even without an internet connection. Using the dispatch feature account managers can pre-populate forms for offsite employees and exchange key information without needing to return to the office. 

About DOMA-
Powered by Tech, Driven by People
DOMA Technologies (DOMA) is a software development and digital transformation company whose mission is to change customer lives by lightening their workload through faster and more targeted access to their data. Since 2000, our team of 200+ experts has helped businesses navigate all aspects of the digital world. We are a dedicated strategic partner for the federal government and private sector clients at every stage of their unique digital transformation journey.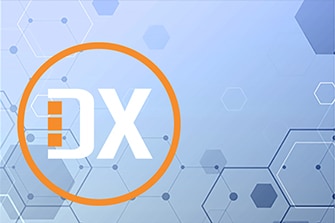 Learn more about DOMA's DX Software